HAPPY TEN YEAR ANNIVERSARY!!!
It has been an honor leading you fine bunch. It has been a wild ride at some points. Today marks ten years from when the Fighting 13th (originally the 13th MEU) was established.  We played basically the three games on my PC....Battlefield 2, Battlefield Heroes, and Age of Empires III. Age of Empires was never too big and Battlefield 2 died off, but Battlefield Heroes became our first game game, where we had an impressive seven squads at one point! Early 2010 came Battlefield: Bad Company 2 where we even doubled in size...and then a mutinous split came about which devastated us. We almost threw in the towel. 
Battlefield Play4Free (very short-lived game) came about and helped us to start picking up the pieces. We were a pretty formidable force in that relatively small game. We went on to place 4th in a Tournament (for money) out of 32 teams in what would be the only P4F Cup to happen. We had a set 10-14 members who practiced every other day or so, and we had tactics formulated--it really paid off.
Battlefield 3 in 2011 is where we really started to mold our identity. We were on all three platforms (then) with six/seven squads dominating BF3 in public matches and scrims. Here is a picture of some of that history: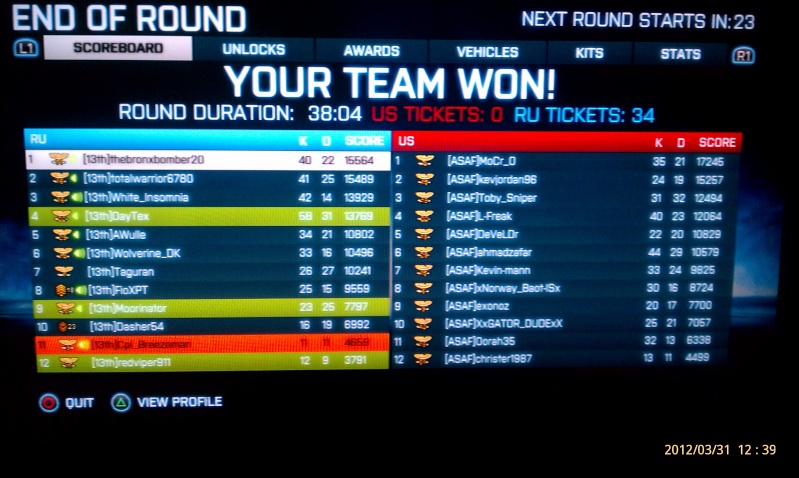 I am not posting this picture just to gloat ;) This is one of my most memorable moments in the community. A 38 minute back-and-forth match on Grand Bazaar on Battlefield 3....intense--all 38 minutes of it. We had two infantry squads and a dedicated LAV/engineer squad roaming the four corner streets. The last few minutes we were down by maybe 100 tickets (whoever set this match up made it like 2000v2000 tickets). Everything was just clicking to us...we were all in sync. Communication was constant but not overbearing. Squads were going down, but were not being wiped out completely. It was awesome.
My armpits were extremely sweaty after that, my body was trembling.....you would have thought I had just ran a 5K....and I'm sure those other 11 teammates felt the same way I did.
After BF3 started to decline, Battlefield 4 came along. It's where we have most of our current core members from. And then 1-2 years after it was released, it died down and a new game appeared. In the early half of the community, our population seemed to swell and decline coincidentally with each new Battlefield game that came out. Nowadays, games do not seem to last as long. The games that we also played alongside these games include the likes of Halo, Killzone 3, Planetside 2, Counter Strike, Call of Duty, The Division, and many more. 
In 2015, another monumental piece of software came out...Discord. We adopted it in 2016. It changed the dynamic of the two decades of clanning and clan history before it.  
In 2018, we lost Stormwolfe. He was then commanding the Stingrays Squadron (WOWS NA Group). He will forever be in our memory. Six years prior, we lost a dear friend and clan mate, Purplevine, due to a drunken driving accident in the UK. These were among our lowest moments.  May their souls rest in peace and may their memories last in our hearts and their loved one's forever.
Currently, the community plays ARMA III, Battlefield V, Escape from Tarkov, Insurgency: Sandstorm, Mordhau, Rocket League, Sea of Thieves, The Division 2, and World of Warships, among other games. We have over 200 AWESOME members and we are always looking for more. Thank you all for everything you do. You make this community very pleasurable for me as well as others.
The cover picture depicts Colonel Joe W Kittinger making an extremely high-altitude jump from the edge of space in 1960. I chose it because our 10 year anniversary marks the 50th anniversary of the Moon landings. Also, it symbolizes our future, and how we are always looking for more. Here's to our future.
Happy ten years! If you have any awesome memories from your time here, please share them with us here!
Also, here's our old old website if you want to really go look at a time capsule: http://13thmeu.forumotion.com/forum
2